"I had 25 Divisions to choose from when the P.A.P. nominated me to stand for elections. I chose Tanjong Pagar. The people of Tanjong Pagar has a right to know why.

Tanjong Pagar is a working class area. No other division has such a high proportion of workers, wage-earners, small traders and such a low proportion of wealthy merchants and landlords living in it.

I wanted to represent workers, wage earners and small traders, not wealthy merchants or landlords. So I chose Tanjong Pagar not Tanglin."
– Mr. Lee Kuan Yew in a March 1955 election speech
In memory of our Prime Minister, Senior Minister, Minister Mentor

The Man in Tanjong Pagar
Mr Lee Kuan Yew has spent much time to prune and groom Tanjong Pagar since 1955. I took a look at how Tanjong Pagar has mature gracefully. Here're five of many significant and historical facts of Mr Lee's life in Tanjong Pagar.
1. Mr Lee's Grandparents home (147, Neil Street)
Laughter of children permeates the air. They zipped past the main door, launched themselves off the steps and ran towards the gate to welcome any visitors. Lee Kuan Yew's
grandfather's home at 147, Neil Road
was where he stayed as a little boy.
2. PAP First Headquarters (140, Neil Street)
"On March 17, 1955, Mr Lee addressed 2,500 people in Tanjong Pagar in English, Malay and Mandarin, refuting rumours that he could not speak mandarin."
(1)
Through this door, Mr Lee Kuan Yew and the founding members charted the path for Singapore.
Through this door, Mr Lee Kuan Yew won the Tanjong Pagar seat.
Through this door, Mr Lee Kuan Yew and his team molded Singapore into a first world nation.
3. From Rental to Premium Housing
Visual comparison between an old and new HDB block in Tanjong Pagar
"This was the site where HDB built the first rental blocks in this area in 1963. Today, here stands HDB's latest generation of public housing, The Pinnacle@Duxton." - Lee Kuan Yew.
(2)
4. Tanjong Pagar Community Centre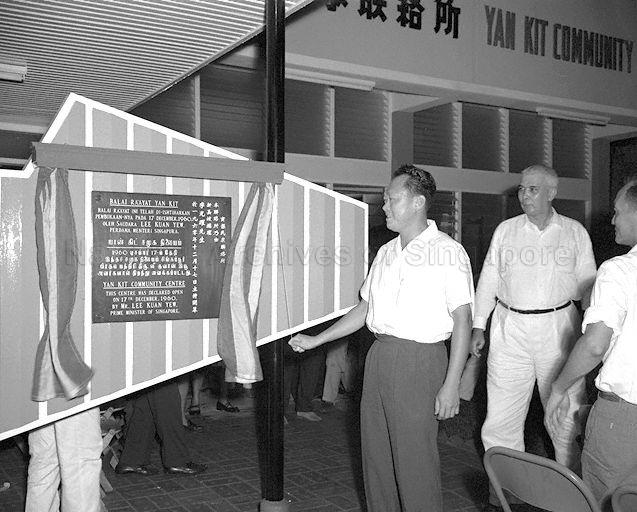 Source: National Archive of Singapore (4)
Mr Lee Kuan Yew launched one of the very first community centres in Singapore on December 17, 1960. The community centre was first named Yan Kit before its was renamed as Tanjong Pagar Community Centre in 1962. The purpose of setting up these community centres was "to encourage cultural and recreational activities".
(5)
(6)
Mr Lee Kuan Yew spent time in 1960 to launch the community centre for Singaporeans. Today, it was the turn of Singaporeans to pay their respect to Mr Lee.
5. People of Tanjong Pagar
The people of Tanjong Pagar. The common workers. He chose Tanjong Pagar. He wanted to represent the poor. He wanted to show that this microcosm of Singapore can flourish, and it did.
References

1. The Young Politician. March 28, 2015. The New Paper. P6.

2. Speech by Mr Lee Kuan Yew, Minister Mentor. December 13, 2009. Key handover ceremony for the Pinnacle@Duxton. Retrieved on March, 28 2015. http://www.news.gov.sg/public/sgpc/en/media_releases/agencies/mica/speech/S-20091213-1.print.html?AuthKey=

3. Tanjong Pagar - A Pictorial Journey. 1989. Singapore: Tanjong Pagar Citizens' Consultative Committee

4. National Archives of Singapore. Accessed on March 28, 2015. http://www.nas.gov.sg/archivesonline/photographs/record-details/b908644b-1161-11e3-83d5-0050568939ad

5. The people and the country. 1972. Singapore : PAP Tanjong Pagar Branch. P75.